Angelique Francis — Late-night Bandleader
Ann Sychterz — DJ
Bill Ewanick — Head DJ
Brooke Filsinger — Late-night DJ
Caitlin Wellman — Head Judge
Coralie Bazinet — Judge
Gab Kern — DJ
Jenna Applegarth — Instructor, Judge
Jody Glanzer — Late-night DJ
Jonathan Caron — Judge
Jon Tigert — Instructor, Judge
Katleen Rousseau — DJ
Léo Newman — Judge
Luis Arredondo — Judge
Lunou Samson Poirot — Judge
Maryse Lebeau — Judge
Meghan Gilmore — Co-Master of Ceremonies
Naomi Uyama — Bandleader, Instructor
Olivier Henchiri — Co-Master of Ceremonies
Sylwia Bielec — Judge
Tony Vergara — DJ
Zack Richard — Judge
And of course, our amazing Event Team
---
Angelique Francis (Late-night Bandleader)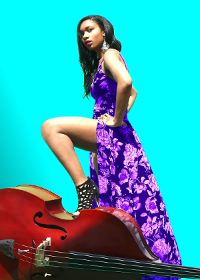 Angelique Francis is a versatile and exceptionally gifted musician with talent that is way beyond her years. This multi-talented, multi-instrumentalist, multi-genre singer song writer and composer has wowed audiences across the globe with her electrifying performances, instrumental abilities and powerful textured vocals. She is known for her eclectic mix of various musical genres including Blues, Soul, Folk, Jazz, Gospel and Rock. Angelique has shared the stage/opened for a large roster of well-known musicians such as Gary Clark Jr, Beth Hart, Tom Cochran, Burton Cummings, Sugar Ray and the list goes on. Her diversity, passion and love of music can be heard in all of her original compositions.
Ann Sychterz (DJ)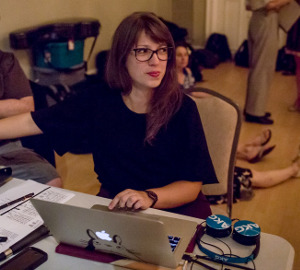 Ann (DJ Bubbles) began swing dancing in 2008 in Waterloo, Canada (not far from Toronto). Since getting her first songs, she has DJed in her home scenes including the one she founded in Switzerland called Swingtime Lausanne. She has had the fortune of playing swing for evenings and workshops around the world as well as she is the perennial head DJ at Great Lakes Balboa Escape in Chicago. Digging through old stuff and new (soft spot for the original stuff), small group to big band to Newport, North American and European, she aims to create an atmosphere worthy of creativity and playing around with the dance.
Bill Ewanick (Head DJ)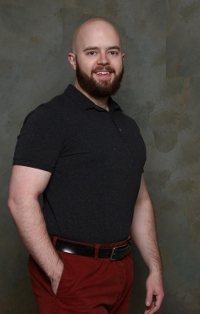 Bill Ewanick started dancing when he moved to Ottawa for university. Since then, he's danced all over the world, competed in many competitions, performed on the NAC stage, and been part of a TV pilot variety show that never took off. Coming from a musical family, Bill's interest in swing music stared before highschool when his relatives would get together and play old jazz standards. He has been Head DJ at O-Town Showdown since it's inception, and is hoping you all have a fun time and dance your hearts out!
Brooke Filsinger (Late-night DJ)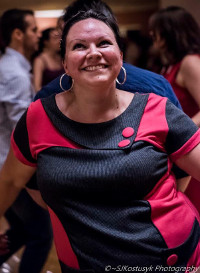 Brooke has been spinning tunes for longer than she cares to admit! From North American dance exchanges and competitions to European music festivals to Asian swing clubs and back home to Toronto late-nite house parties, Brooke is constantly in search of her next DJ adventure. Be it Swing Standards, Blues, Funk, Motown, or Soul, Brooke loves full-bodied, 'scrumpditiliumptious' music, the kind that you can really sink your feet into. She'll play that stuff that makes you just have to keep dancing all night long!
Caitlin Wellman (Head Judge)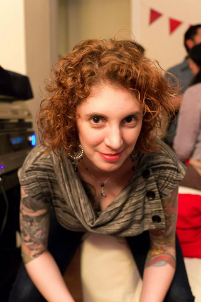 Caitlin was a founding member of the multi-award winning performance troupe Minnie's Moochers, from Ithaca, NY, who performed at the Frankie95 Celebration in NYC. She has been in demand as a teacher across the US, Canada, Europe, Australia and Asia for many years. With her Toronto partner Chachi, she was the Director & Choreographer for Capital Dance Productions, a performance troupe that specializes in 20th century North American partner and solo dances. She has also been the Artistic Director & Choreographer of The Flappettes, a sassy all female 1920′s Jazz & Charleston troupe.
Caitlin has also made several Television and Print appearances such as: Instant Star, Much Music Video Awards '06 with Fall Out Boy, Toronto 1 "Toronto Dances" program, and the cover of Dance Spirit Magazine.
Coralie Bazinet (Judge)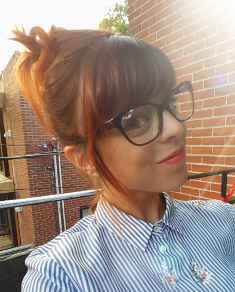 It was in 2009 (during an "Intro to Lindy Hop" class) that Coralie first discovered swing — and she hasn't stopped dancing since! For her, practices are never a chore, and she can't imagine spending a day without dancing. Her passion and her unconditional love for swing allowed her to make her way through Studio 88 Swing's performance troupes, where she earned her place in the SAF Squad: Studio 88 Swing's elite troupe, and many-times winner of international team championships. Coralie also takes part in many competitions, winning third place at the 2015 International Lindy Hop Championships (ILHC) and taking the Canadian Champion title with Antoine Simard in 2016. On top of her love of dancing, performing and competing, Coralie takes an enormous amount of pleasure in teaching lindy hop to others. Her favourite moments are when she feels that her students have had a good time with her!
Gab Kern (DJ)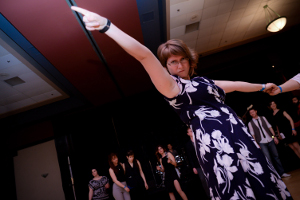 Gabrielle loves playing music that gets dancers out on the floor and keeps them there! Her passion is music that moves you, be it blues, classic swing, vintage-style jazz, or more soulful funky tunes. Be careful, her music will often inspire you to dance long after your feet would have called it a night.
Jenna Applegarth (Instructor, Judge)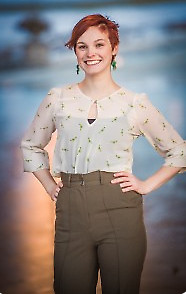 Jenna first started dancing when she was still in diapers. She began swing dancing some many years later, luckily no longer in diapers. Jenna continues to expand her dancing repertoire and share her love and knowledge of these dances with others. Although she enjoys pretty much any type of dancing and music you can move to, her first love is Lindy Hop. Her energy and passion create the perfect environment for learning, creating challenging yet applicable lessons.
Jenna has attended, coordinated, and taught various workshops and exchanges all across the globe. Some of her favorite highlights are performing at Benaroya Hall in The Jump Session Show and teaching for Lincoln Center's Midsummer Night Swing. Above all else she believes that learning to dance should be fun. With over 10 years of teaching/coaching experience, she loves finding new ways to connect with other dancers on the floor and in the classroom.
Jody Glanzer (Late-night DJ)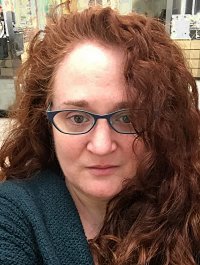 Jonathan Caron (Judge)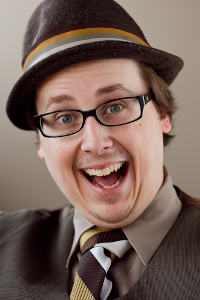 Jonathan hails from Cat's Corner in Montreal, where he took his first swing dance class in January 2009. Since that fateful moment, Jonathan has been sharing his love for jazz dancing and jazz music while traveling across Canada and the USA. He's competed in events such as the Canadian Swing Championships, the International Lindy Hop Championships, the Ultimate Lindy Hop Showdown, the Boston Tea Party, the Dirty Dozen Weekend and of course, O-Town Showdown.
Jonathan has also been a member of the Northern Lights since 2013. With them, he's had the chance to choreograph, compete and perform across North America. This includes performances in Montreal, Quebec City, Seattle, New Orleans and New York City, where he got to perform during Frankie100 (an event celebrating the life of Frankie Manning).
All of these dance experiences only made Jonathan appreciate jazz music more and more, eventually taking him down the path of becoming a dance DJ. Since starting locally in Montreal and Quebec City, he's DJed at Dirty Dozen Weekend, Boston Tea Party, and Beantown Dance Camp (where he's been on the DJ team for four years, and where he's now in charge of the DJ Summit).
For Jonathan, music will always be the most important part of dancing, and he shares that in his DJing and his dancing, whether teaching, competing, or social dancing.
Jon Tigert (Instructor, Judge)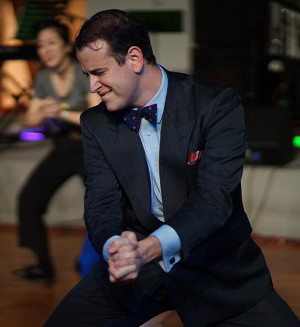 Jon Tigert found swing dancing at the tender age of 15 and never looked back. Now, somewhat older than 15, Jon shares his knowledge of the dance all over the United States and the World. You may know him from his roles at events such as Lindy Focus, Lindy Fest, The Canadian Swing Dance Championships, The Chinese Lindy Hop Championships, Herrang Dance Camp, The International Lindy Hop Championships and many more. Known for his concise language, historical knowledge and and infinite supply of dad jokes, Jon's classes are immensely informative and entertaining. Beyond teaching, Jon is often seen behind the microphone as a well known MC and host, behind the computer as a DJ, or behind the drum kit playing and singing with various bands.
Katleen Rousseau (DJ)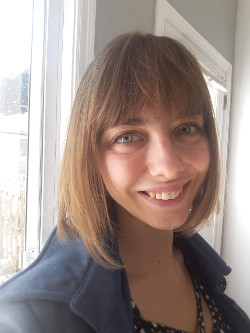 Founder of "Tempo Swing" school (now running for five years), Katleen started dancing in 2007 in Quebec City. From the beginning, she was always very involved in the scene, whether she was dancing, teaching, hiring bands, getting involved with troupes or sharing her passion for swing. She has also traveled within Canada and the United States to learn, and to dance at events such as O-Town, Stompology, Beantown, Empire City Swing, CCX and many others. She began swing DJing in 2011, first out of necessity and then out of passion. She likes to find little-known treasures, from especially energetic music, to big bands from the 1920s, to the swinging jazz currently being created in New Orleans.
Léo Newman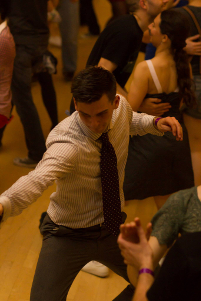 "It's not the destination: it's the journey."
Léo started dancing over a decade ago and has been unstoppably enthusiastic ever since. In Vancouver, he was a founding member of the performance group Hot Koko and one of the main instructors at Rhythm City Productions. Traveling for workshops, dance events, and jazz festivals, Léo is a zealous advocate for the lessons that can only be taught through active social dancing. He recently had the honour of teaching at the world-renowned Herräng Dance Camp.
A keen competitor from the start, he has won or placed in numerous competitions from Lindy Bout in Vancouver to Harlem in Lithuania.
Luis Arredondo (Judge)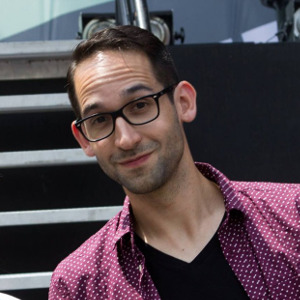 Luis Arredondo is known for his energetic dance style, risk-taking, continuous smile, and detailed approach to the learning process. Originally from Spain, he came to Toronto in 2011, and continues to confound and amuse people with his accent to this day.
His love of dancing extends to the teaching process, and in 2016 he decided to quit his job as an architect to work full time as a dance instructor. The Lindy Hop (and Balboa) revolution has been full steam ahead ever since! He has focused on expanding his studio in Toronto, Lindy Hop Revolution, and refining his teaching style and technique.
Luis likes to keep his classes moving with lots of positive energy, interesting shapes, and a healthy sprinkling of technique. He likes to make sure each class is getting what it needs to succeed, and no two classes are exactly the same!
He has travelled and competed around North America and Europe, and has won and placed in many national and international competitions. As an instructor, he teaches Lindy Hop and Balboa across Canada, and has recently started teaching in the US as well.
He looks forward to seeing you all in class, to fill your mind with dancing tips and interesting new pronunciations of common words!
Lunou Samson Poirot (Judge)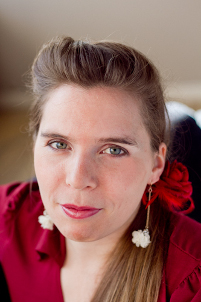 Lunou is a dynamic follower from Montreal and Quebec city. She has been swing dancing since 2003, and has developed her own style, always bringing positive energy to the dance floor.
A teacher by profession, she loves to help dancers find their way and grow in the dance. Generous and devoted, she shares her passion by performing and teaching across North America. She has been a member of the Northern Lights since 2008. She has also been one of the main teachers at Cat's Corner in Montreal since 2011.
She loves being part of the swing dance community; that's why she has dedicated her last 10 years to this dance, coaching lindy hop teams, creating projects and performing in big dance productions like "Swing Station" and "It don't mean a Thing".
She is a lover of competitions, and has won many titles throughout the years from such events as ALHC, ILHC, Camp Jitterbug, CSC and Boston Tea Party. Since 2013, she has been working with the very talented Zack Richard. They forged a strong partnership through a common love for everything crazy and goofy. Their styling differences are one of the key components of their dance relationship, and together they are always keen on both pushing the envelope and keeping the roots of the dance in authentic jazz movement.
She is very excited to see the dancers perform and compete at O-Town Showdown 2019!
Maryse Lebeau (Judge)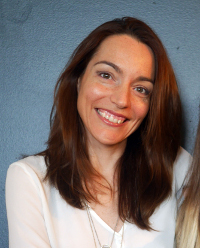 One of Canada's most versatile dancers in Lindy Hop, Balboa and Shag, Maryse has been coaching teams and individuals ever since her stint as director of the Swinging Air Force in the early 2000s, continuing on with Swing ConneXion which she founded in 2005. A powerhouse of creativity with a keen eye for detail, her many talents brought her and her teams to podiums worldwide - all the while teaching in various locations such as France, the US, Germany, and Australia (to name a few).
Known for her unique flair and elegance, she is happy to be at O-Town Showdown as a judge this year!
Meghan Gilmore (Co-Master of Ceremonies)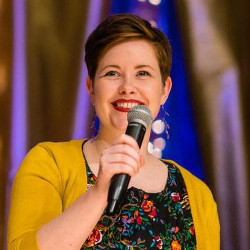 As an MC or DJ, Meghan works to make sure both the music that makes us swing and the people in the room have all the respect they deserve. Meghan is a Canadian lindy hopper who has been part of the global swing scene for fifteen years. You may have met her near a microphone or DJ booth at such places as Herrang Dance Camp, the International Lindy Hop Championships, Lindy Focus, Lindy Shock or Lindy Bout. If you haven't met her yet, come say hello and strike up a conversation about Count Basie or the future of swing dance.
Naomi Uyama (Bandleader, Instructor)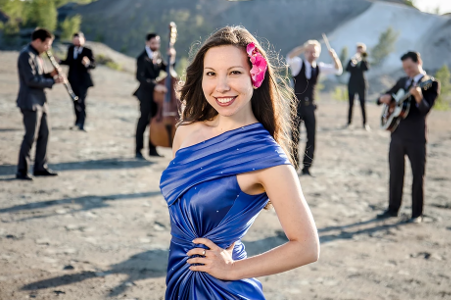 International Lindy Hop champion Naomi Uyama has formed a band with some of her very favorite jazz musicians to bring you the most swing possible. Since coming together in 2013 Naomi & Her Handsome Devils have played some of the biggest and best lindy hop events from South Korea to Sweden and everywhere in between. Their recordings are played at dances around the world. This is small group swing with big band sensibility.
Olivier Henchiri (Co-Master of Ceremonies)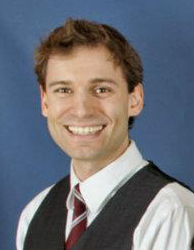 Olivier comes from a musical background that started at the age of nine, when he began playing the cello. He later developed an interest in Baroque music and founded the Ottawa Baroque Consort, an orchestra on period instruments, which he performs with and conducts.
Not satisfied with having just one obscure nerdy pursuit, Olivier took up the Lindy Hop in 2002. Over the next decade he traveled extensively to dance events and competitions, winning several titles in Canada and the U.S. He joined Swing Dynamite's teaching staff in 2006, and has since taught classes and workshops in various styles of swing. As well, he coached the Rhythm Blasters performance troupe for several years.
As part of various Swing Dynamite troupes or featured with a partner, Olivier has performed with the National Arts Centre Orchestra, the Ottawa Jazz Orchestra, and for shows at the Ottawa Jazz Festival, the Ottawa Gala, the Ottawa Fringe Festival, La Nouvelle Scene, and the Casino du Lac-Leamy.
Sylwia Bielec (Judge)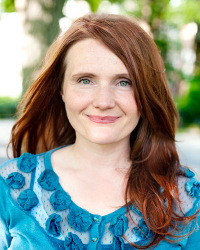 Sylwia Bielec is a dancer and swing dance teacher from Montreal. Above all, Sylwia values collaboration, authenticity and effervescence on the dance floor and in the community.
Sylwia is a founding member of the Jazz Circle Squared, the Northern Lights Lindy Hop Crew, as well as the all-woman team The W Project. She has taught regionally and nationally with partners including fellow teammates Alain Fragman, Aleix Prats-Ferrer, Jonathan Caron and Alain Wong and has led teacher development workshops with teams of teachers in cities across the United States and at Swing Out New Hampshire. She was the co-artistic director at Cat's Corner in Montreal from 2013-2017 where she had the immense pleasure of collaborating with Anaïs Sékiné and the Cat's Corner teachers in a labour of love. Sylwia and Alain also coached the Cool Cats Coleslaw Collective between 2016 and 2018. Currently, Sylwia is teaching at Cats Corner and incubating new projects with her jazz family. She is a regular MC at Cat's Corner events and you can catch her next on the mic at Lindy Bout.
Tony Vergara (DJ)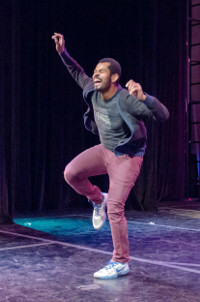 Tony can usually be found wreaking havoc in Baltimore.
He started dancing in 2005, rocking out to Baltimore Club music at high school dances. He found Lindy Hop and all that jazz in 2007, when he started performing with and then choreographing for the West Philly Swingers at the University of Pennsylvania. While there, he started DJing house parties with a mix of lindy, blues, and pop music. He studied Jazz and Popular Music (also neuroscience, but that's less relevant), so he'd love to talk music history and theory with you.
When he's DJing, you'll probably hear a range of music, some driving, some lazy, some fast, some slow, and everything in between. His musical influences include Chick Webb (he's from Baltimore!), Count Basie, Duke Ellington, Illinois Jacquet, and Lester Young, but also Sharon Jones & The Dap Kings, Chance the Rapper, and Bell Biv Devoe. He'll keep you dancing, so come prepared with your most comfortable shoes and a few extra shirts!
Zack Richard (Judge)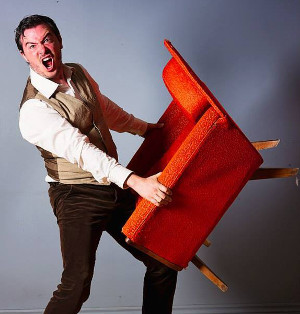 As a pillar and mainstay of the Montreal swing scene, Zack Richard is an established coach, teacher and dancer – one with a pedigree of over 15 years of success and experience. Several-time Canadian champion and founder of not one but two dance schools – Studio 88-Swing initially and Swing Connexion later – Zack has shared his passion for dancing throughout the world.
As a successful lindy hop, balboa and Charleston competitor, Zack is now eager to contribute to the O-Town Showdown as a judge, ready to see dancers put their best foot forward.
---
Event Team
Without the following people, O-Town Showdown would not be possible!
Adam Feiner — Organizer
Laura Smith — Organizer
Paul Campbell — Volunteer manager
Robin Treleaven — Logistics
Dave Schindler — Web manager
Shannon Macgillivray — Marketing/Publicity
Erik Morris — Design
Flynn Strathearn — Apparel, Operations
William Ewanick — Head DJ
Kalyn Jobb — Food Manager
Anne Dagenais Guertin — Safety Policy
Devon Rowland — Photography
Randy Panté — Videography
Special thanks to the Ottawa Swing Dance Society, to Red Maple Blues, and to Side Street Swing for their sponsorship and logistical support.