Amélie Paulus — Judge
Angelique Francis — Late-night Bandleader
Antoine Simard — Judge
Bill Ewanick — Head DJ
Caitlin Wellman — Head Judge
Coralie Bazinet — Judge
Gaby Cook — Instructor, Judge
Kofi Arthiabah — Judge
Luis Arredondo — Judge
Maryse Lebeau — Judge
Meghan Gilmore — Master of Ceremonies
Nathan Bugh — Instructor, Judge
Raphaël Desmaison — Judge
Zack Richard — Judge
And of course, our amazing Event Team
---
Amélie Paulus (Judge)
Angelique Francis (Late-night Bandleader)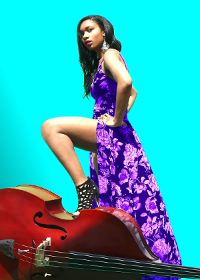 Angelique Francis is a versatile and exceptionally gifted musician with talent that is way beyond her years. This multi-talented, multi-instrumentalist, multi-genre singer song writer and composer has wowed audiences across the globe with her electrifying performances, instrumental abilities and powerful textured vocals. She is known for her eclectic mix of various musical genres including Blues, Soul, Folk, Jazz, Gospel and Rock. Angelique has shared the stage/opened for a large roster of well-known musicians such as Gary Clark Jr, Beth Hart, Tom Cochran, Burton Cummings, Sugar Ray and the list goes on. Her diversity, passion and love of music can be heard in all of her original compositions.
Antoine Simard (Judge)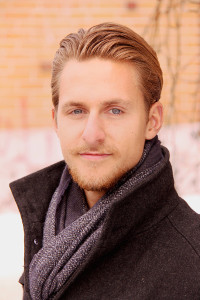 Antoine discovered partner dancing in 2009 with Salsa! He explored several other styles of dance in the years that followed, eventually falling in love with Lindy Hop in 2011. Over the next three years Antoine focused on working with his dance partner Coralie, competing and teacing in France, Spain, the United States, and throughout Quebec. He won several awards, including 3rd place in Showcase division at both ILHC 2015 and CSC 2017, 2nd place in the Strictly at Swing-A-Dance 2016 and 2017, and 1st place in Showcase at O-Town Showdown 2017, CSC 2015, and Dig Tha Feet 2015. Finally, Antoine and his partner are recognized for having won the title of "Canadian Champions" at CSC 2016 and 2017. Additionally, Antoine had the chance to work with none other than Annie Trudeau, with whom he competed and taught locally for a few years after his swing debut. Finally, you can see Antoine performing with his partners in various Quebec TV shows such as "Belle et Bum", "les Dieux De La Danse", "En Direct De L'Univers" et "Dans l'arène".
Full of teaching, competition and performance experiences with his partners, Antoine has become a versatile, open and creative dancer. Lead or Follow, invite him to dance!!
Bill Ewanick (Head DJ)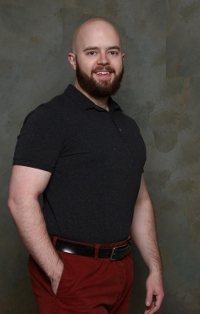 Bill Ewanick started dancing when he moved to Ottawa for university. Since then, he's danced all over the world, competed in many competitions, performed on the NAC stage, and been part of a TV pilot variety show that never took off. Coming from a musical family, Bill's interest in swing music stared before highschool when his relatives would get together and play old jazz standards. He has been Head DJ at O-Town Showdown since it's inception, and is hoping you all have a fun time and dance your hearts out!
Caitlin Wellman (Head Judge)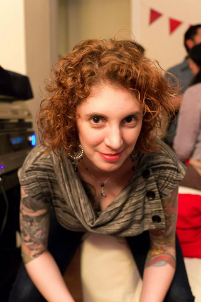 Caitlin was a founding member of the multi-award winning performance troupe Minnie's Moochers, from Ithaca, NY, who performed at the Frankie95 Celebration in NYC. She has been in demand as a teacher across the US, Canada, Europe, Australia and Asia for many years. With her Toronto partner Chachi, she was the Director & Choreographer for Capital Dance Productions, a performance troupe that specializes in 20th century North American partner and solo dances. She has also been the Artistic Director & Choreographer of The Flappettes, a sassy all female 1920′s Jazz & Charleston troupe.
Caitlin has also made several Television and Print appearances such as: Instant Star, Much Music Video Awards '06 with Fall Out Boy, Toronto 1 "Toronto Dances" program, and the cover of Dance Spirit Magazine.
Coralie Bazinet (Judge)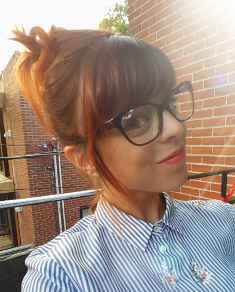 It was in 2009 (during an "Intro to Lindy Hop" class) that Coralie first discovered swing — and she hasn't stopped dancing since! For her, practices are never a chore, and she can't imagine spending a day without dancing. Her passion and her unconditional love for swing allowed her to make her way through Studio 88 Swing's performance troupes, where she earned her place in the SAF Squad: Studio 88 Swing's elite troupe, and many-times winner of international team championships. Coralie also takes part in many competitions, winning third place at the 2015 International Lindy Hop Championships (ILHC) and taking the Canadian Champion title with Antoine Simard in 2016. On top of her love of dancing, performing and competing, Coralie takes an enormous amount of pleasure in teaching lindy hop to others. Her favourite moments are when she feels that her students have had a good time with her!
Gaby Cook (Instructor, Judge)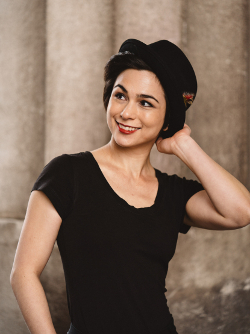 Gaby Cook is a veteran lindy hopper of all stripes. For the last 15 years, she has been an active professional in the global lindy hop scene — teaching and performing for events such as Herräng Dance Camp, Lindy Focus, Paris Jazz Roots, Rock That Swing Festival, Stompology, Lindyfest and the IG hop Dance Residency in Vienna among others. In the classroom, she is playful, informative and honest. Through teaching dance, she seeks connect new audiences to the immensely rich history of swing-era dances. She prioritizes equality for followers and leaders in the classroom space — and has championed a movement first approach to teaching partnered dance content.
Kofi Arthiabah
Luis Arredondo (Judge)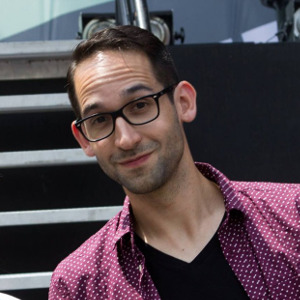 Luis Arredondo is known for his energetic dance style, risk-taking, continuous smile, and detailed approach to the learning process. Originally from Spain, he came to Toronto in 2011, and continues to confound and amuse people with his accent to this day.
His love of dancing extends to the teaching process, and in 2016 he decided to quit his job as an architect to work full time as a dance instructor. The Lindy Hop (and Balboa) revolution has been full steam ahead ever since! He has focused on expanding his studio in Toronto, Lindy Hop Revolution, and refining his teaching style and technique.
Luis likes to keep his classes moving with lots of positive energy, interesting shapes, and a healthy sprinkling of technique. He likes to make sure each class is getting what it needs to succeed, and no two classes are exactly the same!
He has travelled and competed around North America and Europe, and has won and placed in many national and international competitions. As an instructor, he teaches Lindy Hop and Balboa across Canada, and has recently started teaching in the US as well.
He looks forward to seeing you all in class, to fill your mind with dancing tips and interesting new pronunciations of common words!
Maryse Lebeau (Judge)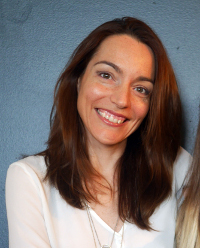 One of Canada's most versatile dancers in Lindy Hop, Balboa and Shag, Maryse has been coaching teams and individuals ever since her stint as director of the Swinging Air Force in the early 2000s, continuing on with Swing ConneXion which she founded in 2005. A powerhouse of creativity with a keen eye for detail, her many talents brought her and her teams to podiums worldwide - all the while teaching in various locations such as France, the US, Germany, and Australia (to name a few).
Known for her unique flair and elegance, she is happy to be at O-Town Showdown as a judge this year!
Meghan Gilmore (Master of Ceremonies)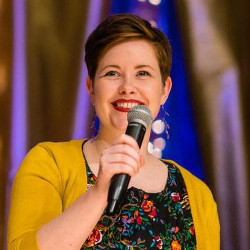 As an MC or DJ, Meghan works to make sure both the music that makes us swing and the people in the room have all the respect they deserve. Meghan is a Canadian lindy hopper who has been part of the global swing scene for fifteen years. You may have met her near a microphone or DJ booth at such places as Herrang Dance Camp, the International Lindy Hop Championships, Lindy Focus, Lindy Shock or Lindy Bout. If you haven't met her yet, come say hello and strike up a conversation about Count Basie or the future of swing dance.
Nathan Bugh (Instructor, Judge)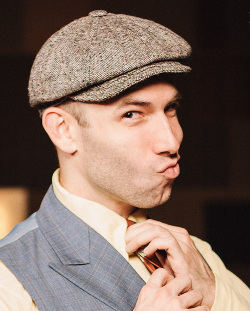 Raphaël Desmaison (Judge)
Zack Richard (Judge)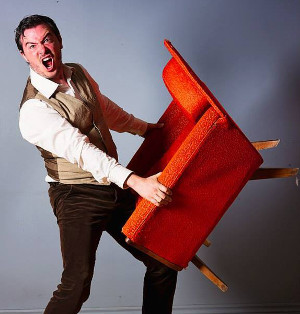 As a pillar and mainstay of the Montreal swing scene, Zack Richard is an established coach, teacher and dancer – one with a pedigree of over 15 years of success and experience. Several-time Canadian champion and founder of not one but two dance schools – Studio 88-Swing initially and Swing Connexion later – Zack has shared his passion for dancing throughout the world.
As a successful lindy hop, balboa and Charleston competitor, Zack is now eager to contribute to the O-Town Showdown as a judge, ready to see dancers put their best foot forward.
---
Event Team
Without the following people, O-Town Showdown would not be possible!
Adam Feiner — Organizer
Laura Smith — Organizer
Robin Treleaven — Organizer
Paul Campbell — Volunteer manager
Dave Schindler — Web manager
Shannon Macgillivray — Marketing/Publicity
Erik Morris — Design
Flynn Strathearn — Apparel, Operations
William Ewanick — Head DJ
Kalyn Jobb — Food Manager
Anne Dagenais Guertin — Safety Policy
Devon Rowland — Photography